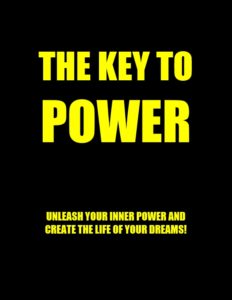 Back in 2016, it was announced that Kreafy's Library would be sponsoring the electronic publication of select home study courses which were underground classics at one time, but which have since become unavailable in print format. Our first such course, The Art & Science of Magickal Creation, was released in Kindle format when that announcement was made, and we are pleased to say that it has since received some rather glowing reviews.
Today, almost two years after that original announcement, we are just as excited to announce the release of our second course, which is The Key to Power.
The Most Powerful Self-Help Program in the World…?
The Key to Power is a rather different course to the previous one on Magickal Creation, because it combines specially-developed energy-magick techniques with a step-by-step real-world implementation strategy to create the most powerful self-development program we have ever seen.
The Key to Power consists of twelve Power Levels which are designed to be studied at a suggested rate of one per week. All twelve Power Levels are presented in a single PDF volume for ease of use on all types of devices, and the aim of the program is to teach you how to unleash your inner power and transform your life in just twelve weeks.
A Breakthrough in Personal Transformation
Originally written to be of interest and benefit to everyone, The Key to Power does not explicitly discuss magick, but those of you who are regulars here at Kreafy's Library won't fail to see the principles that are being employed in the program. To illustrate, here is a very brief quote from Power Level #01:
'A central idea in The Key to Power is that you are a manifestation of energy who automatically conditions the universe to work in accordance with your thoughts, words and actions. The energy that you put out into the universe in the form of thoughts, words and actions can be said to have a magnetic effect, because it tends to attract the circumstances, people and experiences which resonate at a similar frequency.'
That said, The Key to Power is not a course in magick, but in personal transformation, and the benefits that it provides are quite enormous.
To illustrate, here are just a few of the things that you will be able to do once you have mastered The Key to Power…
– Accumulate as much wealth as you desire.
– Ensure that if anyone gets a 'lucky break', it will be you.
– Conquer any bad habit instantly, including smoking, drinking, nail-biting and any others that you want rid of.
– Lose weight, build muscle and create the physique of your dreams in a matter of weeks – without fail.
– Attract a new lover or revolutionise your existing relationship with a passion-power that is irresistible.
– Live stress-free and enjoy complete peace of mind regardless of the circumstances that life throws at you.
– Experience immense physical and mental energy.
– Become a winner in almost any situation.
– Get other people to want to help you in any way they can, and without you having to exert pressure in any form.
– Learn any skill (such as speaking a foreign language or playing a musical instrument) in far less time than it takes the average person.
– Become 100% self-reliant and break out of the rat-race forever.
All of that is revealed on the official web page for the program, but what you won't find detailed on that page is the fact that you will also learn to develop and use your spiritual energy (what the course itself refers to as 'inner power') in some rather clever ways to radiate intention, probe the minds of others, explore non-physical dimensions of reality, and more.
This combination of powerful (albeit non-explicit) magick and more conventional strategies for change makes The Key to Power a program that will work for anyone and everyone.
Receive a Special Discount as a Friend of Kreafy's Library!
To celebrate this exciting new launch, Kreafy's Library readers are invited to request a copy of The Key to Power at a specially discounted rate. Simply visit www.TheKeytoPower.com for more details about the program, and enter the coupon code KREAFY at the checkout for a 20% discount. This special discount will be available for a limited time only, so take advantage of it today and enjoy the program!
Francis Kreafy